Moulding the future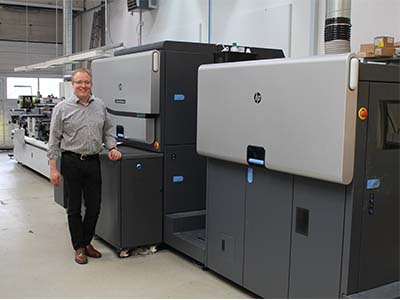 MD Martin Fundal with one of ScanKet's two HP Indigo WS6800 digital presses
Label printing company ScanKet is one of the digital pioneers in Scandinavia, but it has more strings to its bow, having branched out into new and challenging applications. Neel Madsen visited the Danish company. 
When Martin Fundal was offered to take over the reins at Danish label printing company ScanKet A/S, he didn't hesitate. At the time he was working for Visutech Digital AB selling HP Indigo presses to the Scandinavian market, so it was a business with which he was very familiar, having been its supplier for a number of years. 'When I was offered the opportunity of taking over the company, I jumped at the chance as I thought it would be a great challenge,' he said. 'ScanKet has always been at the forefront of technology with many firsts under the belt and it really appealed to the entrepreneur in me.'
It was also this entrepreneurial streak that saw Mr Fundal beginning to develop in-mould labels (IML) in cooperation with rigid plastic packaging specialist RPC Superfos. This sector is still very small in Denmark and Scandinavia accounting for just 1% of the market, mainly due to a lack of understanding of the opportunities on offer in both flexo and digital. Undeterred Mr Fundal set up a new company, ScanMould, dedicated to IML.
Early adopter
Based in Birkerød, north-west of Copenhagen, the company was first set up in 1985, with what Mr Fundal calls 'the generation shift' happening in 2004. Paul Vium, who took up the post as sales director at the company after 20 years at Skanem, joined in 2011, and today the two are joint owners with a staff of 34 and a turnover of 44 million Danish kroner (equivalent to just under £5.2 million).
The journey into digital started very early on when the first Indigo Omnius ws2000 digital press in Scandinavia was installed back in the year 2000. The technology has been upgraded over the years as the latest HP Indigo models has become available. In 2016, the company took a step up by installing a second Indigo press, the then new WS6800 model, whilst at the same time upgrading the existing WS6600, so that today it operates two complete top-of-the-range digital lines. This ensures all jobs can be produced on time even during seasonal increases in demand. 'With two machines we can freely assign jobs and thereby achieve valuable logistic advantages. These presses offer what I would call 'HP stability', with the highest possible production speed without compromising on the quality,' explained Mr Fundal.
Both presses run inline with finishing, which in the digital department is taken care of by two AB Graphic Digicon machines connected via a buffer and featuring varnishing, hot foil, lamination and die-cutting. 'We produce many types of labels as well as shrink sleeves for a wide range of sectors,' said Mr Fundal, explaining that digital print accounts for well over half the turnover. Currently running two shifts in production, the plan is to move to three to maximise capacity across both digital and flexo.
ScanKet holds FSSC 22000 certification for food safety management (a certification scheme that absorbs ISO 22000 and contains a more extensive list of standards). It also has ISO 9001 quality management certification and has been approved by the Danish Veterinary and Food Administration as a producer of food contact materials.
The company has its own in-house pre-press department with four staff, which is located in a neighbouring unit bought a few years back when expansion was necessary. It recently moved to Hybrid Software installing a full package of solutions to make operations more agile, according to Mr Fundal, who explained that he was particularly impressed with the seamless integration and the regular updates of the software. He said, 'We had a lot of intermediate solutions before trying to connect the various parts of our system, but every time one part received an update, we had a problem to fix. With Hybrid, if we have a problem, they just fix it right away and roll it out to other customers too, if they think it will benefit them.' 
New venture
Hand in hand with digital, flexo printing is still a growing market for the company. The flexo department houses two eight colour MPS presses (another first in Denmark) – a 410mm-wide EC model bought at Labelexpo in 2013, quickly followed the year after by an EF Advanced multi-substrate press model fully kitted out with the APC package for automated print sleeve and print pressure setting, also 410mm wide. Three Rotoflex and one Prati finishing machines deal with the labels coming off the narrow web UV flexo presses. 
The IML business started out here, and ScanKet still produces this specialised type of labels on the MPS EF press, but in 2015, Mr Fundal branched out setting up shop in Jyllinge, north of Roskilde, to scale up production. A very ambitious project, ScanMould is a completely new venture with funding from amongst others the Danish Growth Fund, which is a state investment fund that contributes to the creation of new companies. Mr Fundal took on the role as managing director supported by an old friend from his student days, Martin E Colberg, who came on-board as sales and marketing director.
At the heart of the 1500 square metre production facility in Jyllinge stands an eight colour, 1300mm wide Windmöller & Hölscher Miraflex AM flexo press, which takes care of the printing. This is complemented by a finishing set up consisting of a KBA Rapida RDC 106 rotary die-cutter, a Kawahara TXR-1100 blanking machine and a Prati Alhena IML converting machine.
Digital push
'We are the first dedicated IML label manufacturer in Scandinavia and our aim is to become a player on the European market and beyond,' said Mr Fundal. 'IML is a very challenging application and it has been a steep learning curve, but we now have a set up that offers much faster delivery and a lower price than traditional production.' He continued, 'The advantage of IML is that you remove the whole handling of labels with all the associated issues. I see a great potential for IML to take away shares from self-adhesive labels. The potential for growth in this sector is huge, but we have a few hurdles to overcome.'
One of these is to make the rigid plastics manufacturing market understand the vital role that digital print can play in IML production. 'We are working hard to make our IML customers understand the advantages of digital printing technology, such as faster time to market and shorter runs,' said Mr Fundal. 'They need to understand that they don't have to produce 30,000 units, but that it is possible to do just 1000. We also need to teach them that they are not just producing pieces of plastic, but that they are packaging manufacturers, and the possibilities are endless.'
Another application produced both in flexo and digital at ScanKet is shrink sleeves. This is also a small market with big growth potential as brand owners increasingly utilise the strengths of 360-degree decoration of bottles and other containers. The company was early to market with its offering, installing a sleeving unit in 2009.
With so many strings to its bow, ScanKet is a true innovation company, which is not afraid to lead the way and take on new challenges. Mr Fundal concluded, 'The client and the solution form the basis for our choices in the first place. Flexibility, a solution-oriented approach and not least a close relationship with our clients pave the way to added value.' 
In-mould labels with tactile varnishes for wood and stone effects