The corrugated inkjet race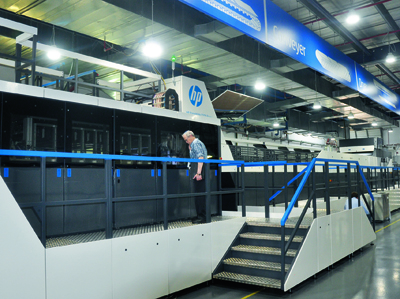 HP PageWide C500 press 
There is a lot of activity in developing new digital corrugated printing systems and suppliers believe that the future is in inkjet. They have backed this with major investment and it is starting to pay off, reports Sean Smyth.
At the top end of the spectrum press manufacturers including Barberàn, Bobst, Durst, EFI, Engico, ERAJet, HP, Koenig & Bauer, Macarbox, Screen/BHS and Sun Automation have all invested large sums in inkjet for corrugated. 
Speeding ahead
In June, HP held a customer VIP event in Israel, showcasing the 1.3m wide PageWide C500 post-print machine, described as the 'speedboat for the corrugated sector' by HP Scitex general manager David Tomer, who also announced they have 10 orders for the press. The first machine, described as a development system, is in place at Israeli player Carmel Frankel, part of the Hadera Paper Group, which operates two corrugators. It is currently producing some 200,000 square metres per month and the company sees opportunities to replace litho-lam and provide more options for customers with faster delivery. In time Frankel sees the technology replacing product labels on flexo printed cases and trays. The plan is to swap out this machine at the end of the year with a new complete line. 
The second machine, now in final beta stage, is at the Smurfit Kappa Interwell plant in Austria where it is a replacement for high quality flexo. The PageWide C500 has a couple of important technology features, with an innovative board transport system featuring a linear motor-powered virtual belt with a vacuum grip passing the board under the thermal heads. HP uses true water-based inks, highlighting the importance of food safety with inks approved for Nestlé Guidelines and the Swiss Ordinance. As food and beverage, with cosmetics, tissues and pharmaceuticals represent the majority of corrugated output, HP believes this is a significant advantage over UV-based inks.
HP has upgraded the performance of its giant webfed Pagewide T1100S press to add two more colours and increase the top speed to 305m/min, which is 13,600 x A4 prints per minute. DS Smith will upgrade its installation in Germany to the higher speed while Ghelfi in Italy is moving into six-colour mode to boost quality. Georgia Pacific in the USA is a user of T1100S and T400S machines, in conjunction with German flexo pre-print specialist Conprinta in a hybrid mode. The flexo lays down solid colours on static backgrounds with inkjet providing variable information and continuous tone imaging. Conprinta is positioning the technology as a complement inkjet to provide a cost-effective route into high volume inkjet printing. 
More contenders
HP will soon not be alone in the pre-print liner sector. Screen has partnered with BHS Corrugated Maschinen und Anlagenbau GmbH to produce a new device they are dubbing the RSR – Roll to Sheet in Real-time. The device is being developed by Screen subsidiary Inca Digital, which will produce a 2.8m wide print engine featuring Fujifilm Samba heads with water-based inks. The printbar will contain 68 individual 43mm wide heads per colour; Inca is using the expertise in driving multiple heads it has gained in many high performance flatbed presses. The project is progressing with a 1.6m wide version under test in Cambridge, with the 2.8m version due to come to market in 2019. The idea is to place the device by a corrugator, using a turner bar arrangement to feed liner into the corrugator, giving the flexibility to also run in roll-to-roll mode as well as inline. It is the only reel-to-printed sheet system and BHS plans to sell the machine either as an option for new corrugators or as upgrade to existing installations. 
It is the post-print sector that is becoming most crowded, however. Early leaders Sun Automation, featuring GraphTech developed print units with Kyocera heads and inks, and Barberàn with many installs are being joined by others. 
At present Spanish developer Barberàn has the most installations, with EFI catching up fast with the Nozomi C18000. This uses UV LED inks with a 1.8m print width and maximum length of 3.0m at speeds up to 75m/min, printing with a maximum of eight heads allowing white plus CMYK and orange, violet and green. Inks meet OCC certification for recyclability and repulpability, and EFI stresses the suitability for indirect food contact applications. 
During an analyst call to discuss the first quarter 2018 results, CEO Guy Gecht shared the progress on the Nozomi. After the first install at the end of 2017, there are now 11 installations with a total of 20 planned for 2018. Across the full year this business unit should generate $60 million in revenue for EFI.

Versioned trays printed digitally
Water-based
Durst uses Water Technology hybrid UV inks to meet food regulations. Printed sheets pass through a large dryer to drive off the water, and then under a final UV curing station to through cure the ink film allowing immediate finishing. The first single pass Delta SPC130 is at a Schumacher plant in Germany where it replaced one of the Bobst/Kodak corrugated presses. The SPC130 is designed to connect with existing sheet handling systems at the customer site with no feeder or delivery. It is being supplied to connect into the sheet loading (either top or bottom feed, without crushing) systems and to deliver into the current systems in a sheet plant. This reduces equipment cost, using proven established technology. 
Koenig & Bauer partnered with HP to produce the 2.8m wide inkjet Pagewide T1100S press marketed by HP, and has developed its own inkjet post-print sheetfed machine, the CorruJET. The modular design can have four, six or seven colours, including an integrated analogue pre-coater to prime coated boards and a varnish unit, with plans to have a digital version in time. It uses Fujifilm Samba heads with water-based inks with a top speed of 6000 sheets per hour, in two widths: 1700 or 2100mm corresponding to most standard flatbed die-cutters. The press has a hard edge fed vacuum belt feeder with a new design featuring no crushing feeder rollers, with an optional sheet cleaning system with integrated intermediate and final dryers. The first machine is with Kolb Wellpappe in Germany with more installs planned.
Queenie Lai is managing director of Erajet, which uses Chinese Handway technology. She said there are 11 installations so far of the single pass machine, including presses in China, USA, Japan, Korea and Turkey. It has a modular design with Kyocera heads and water-based ink technology. 
At the SinoCorrugated 2018 show in Shanghai in April, there were several new developments. Single pass and high performance scanning head print machines were on show from Teckwin and ANWP Sinlopan, which showed a scanning design using Ricoh Gen 5 heads and water-based inks. 
Guangdong Taiyi Precision Machinery Co showed the CPPES ColorJetCJ1800U using Ricoh heads with UV ink in single pass mode as did Foshan WinLink using water-based inks. The Wonder Jet WD200-32A is up to 2.8m wide using water-based ink with inline varnish reporting two sales at the show. There are also mono versions from other  suppliers. Not all of these will be sold outside of China, but it demonstrates the interest in the sector beyond Europe and North America. 
Smaller scale
These new single-pass presses are extremely productive, capable of printing 50 million square metres per year and upwards, and they come with a price tag to match. It is daunting for converters to have to produce high volumes immediately to make the press economic and there are lower cost entry vehicles. The wide-format and flatbed machinery from HP Scitex, Durst, EFI, Inca Digital and others is widely used to print corrugated, for display and increasingly short-run packaging. 
Memjet-powered single-pass systems are coming to market. Portuguese supplier New Solution Engineering has launched the NS Multi LG. The manual feed system features linear media guides with wide belt for accurate media transport with no crush wheels prevent media damage. The company has several digital systems, in labels and textiles, and is using a partnership approach with INESC TEC (Institute for Systems and Computer Engineering, Technology and Science) to accelerate development. Another Memjet system is Xanté's Excelagraphic 4800, a four-colour machine, using six staggered printheads 1210mm wide at some 600 square metres per hour at full 1600dpi. It handles corrugated folded box or flat sheets up to 1.21 x 2.4m to print folded and glued boxes or die-cut sheets up to 16mm thick. Xanté is targeting low-end corrugated independents. It is aimed at corrugated packaging with single use food packaging, such as pizza boxes which was highlighted as a particular opportunity. 
These devices are significantly slower than the single pass systems, but at a much lower cost and capacity for lower volume production. They could be useful entry-level machines for companies looking to move into inkjet, or for print-for-use applications at users and packer/fillers. 
The range of potential solutions on the market reflects the rapidly developing sector, probably the most dynamic and fast changing sector in all print and packaging to embrace inkjet printing. 
Fespa's new corrugated experience
Show organisers reported success for the first Digital Corrugated Experience, a new show concept at Fespa, which took place in May. In addition to the 600+ delegates that specifically travelled to Berlin for the new feature, it also attracted interest from around 3000 visitors from the wider event, equating to 14% of the total visitor audience. 

Visitors could compare and contrast corrugated print samples at the show
This growing interest in digital production for packaging applications was also reflected in the show's 2018 census. Packaging printers among the respondents indicated that digital printing technology was being used in around 30% of their printed output, with 60% of packaging printers owning UV flatbed or hybrid digital print solutions. 42% of packaging respondents specifically highlighted corrugated as a growth application, although digital only accounted for 31% of corrugated production revenues, indicating lower rates of digital adoption than for folding carton or flexible packaging production. The survey also highlighted POS display as a growth business for 59% of sign makers and graphics producers.
The Digital Corrugated Experience showcased the production solutions of 17 exhibitors, which shared very positive feedback regarding their participation in the launch event. 'Fespa's first venture into the packaging world was a critical and successful move,' said Mark Sanderson, global chief revenue officer at CMA Imaging. 'We had interest from all aspects of the packaging world, not just packaging printers but also diverse major brands. The traditional analogue packaging markets need an event like this to help educate the whole supply chain on digital adoption.'
Barry Tabor, managing director of BCS Corrugated, appreciated the specific focus on corrugated board and boxes, compared with more generalist packaging events attracting visitors from disparate industries. He said, 'We have been pleasantly surprised by the number of non-traditional Fespa visitors, especially from box plants.'